It's time you insulated your internal walls and make your home more peaceful than you could've imagined.
Our engineered blow-in insulation solutions will instantly increase the acoustic performance of your internal walls and remove unwanted noise from travelling between rooms. You will benefit immediately with your home being much more peaceful. Privacy will be maintained and you'll be all smiles. The process of installing insulation is also non-intrusive and will add value to your home by upgrading to modern standards.
Supafil® CarbonPlus is a premium, engineered blow in glasswool insulation. It is a high performing product that has exceptional acoustic performance and a proven track record in the UK over many years.
•  Excellent acoustic performance
•  Non-combustible
•  Trusted insulation solution
•  Excellent coverage – fills all gaps and voids
Supafil® CarbonPlus is a high performance acoustic solution for internal walls in existing homes. It fills the cavity, maximising the potential acoustic performance. Unlike other solutions that require the existing lining to be removed, Supafil® CarbonPlus can be installed through small holes made in the existing internal lining. Supafil® CarbonPlus should only be installed by Approved Installers to ensure the highest quality and installed performance.
Install Instructions
---
The insulation is blown into the wall cavity space by Approved Installers. Supafil® CarbonPlus is installed through an existing lining or a material veil (BIB) is attached to the inside framing. The newly formed or existing cavity is then completely filled with Supafil® CarbonPlus. The insulation will fill all gaps and voids and around pipework and wiring to ensure complete, even coverage. After installing the insulation an appropriate lining is applied or repaired. The process is quick and clean will provide minimal disruption – it will be completed before you know it.
The installation of insulation will only be carried out once a full assessment of the suitability of the property and area to be insulated has been completed.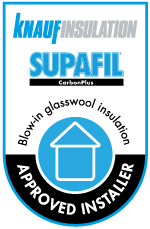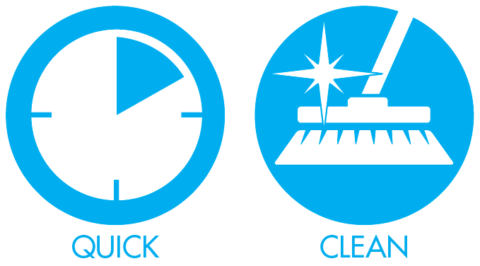 Internal Wall Installation (improving acoustic performance)
1.  After the Approved Installer has carried out the initial checks to ensure the property is suitable for the installation of blow-in insulation, a series of holes are drilled in the internal wall. The holes are drilled in a uniformed patter in the plasterboard.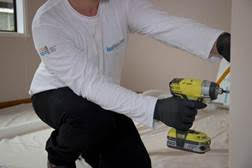 2.  The Approved Installer systematically blows insulation through the holes to ensure complete coverage in the cavity.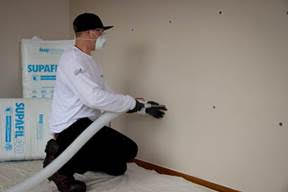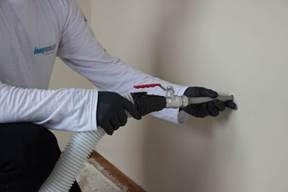 3.  After the Approved Installer has completed filling the cavity with insulation the holes are filled and sanded down in preparation for a finishing coat of paint.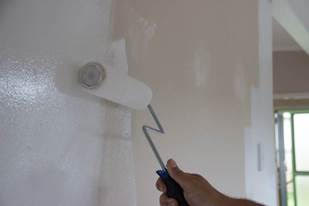 Specifications
---
Without Insulation
(Rw 'sound' rating)
With Insulation
(Rw 'sound' rating)
90mm Timber Frame with 10mm Plasterboard
(each-side)
35
40
75mm Timber Frame with 10mm Plasterboard
(each-side)
35
38
90mm Steel Frame with 10mm Plasterboard
(each-side)
36
42
75mm Steel Frame with 10mm Plasterboard
(each-side)
35
39
150mm Timber floor, 18mm Flooring and 10mm Plasterboard
35
41
200mm Timber floor, 18mm Flooring and 10mm Plasterboard
35
42